Author of best-selling book THE POWER OF ZERO
How To Retire in the 0% Tax Bracket
Spots are limited. Sign up today to reserve your virtual seat! No charge to attend!
You are personally invited to an EXCLUSIVE LIMITED ENGAGEMENT live webinar, hosted by Wealth Management in a Box featuring best-selling author and highly regarded financial speaker, David McKnight. He will provide an in-depth look at our nation's emerging debt crisis and review his thoughts on what measures some clients may take to help protect their retirement plans from higher taxes using The Power of Zero.
Soaring national debt is laying the groundwork for a potential tax increase. You've worked hard for your retirement savings, but if tax rates go up, how much money will you really get to keep? The future might be unpredictable, but your lifelong savings do not have to be. It is time to protect those dollars and leverage a new way of planning for your Second Act.
Tuesday, October 27
9:00 PM (EST)
A TAX Freight Train is Bearing Down on America.
Why Attend David McKnight's Presentation?
If you're like most Americans, you've saved the majority of your retirement assets in tax-deferred vehicles like 401(k)s and IRAs. But what happens when tax rates go up? How much of your hard-earned money will you really get to keep? Unless you can accurately predict what tax rates will be when you take those dollars out, you have no idea how much of that money is really yours.
But, even if tax rates double, two times zero is still zero.
Protect Your Retirement Savings Now From The Impact of Rising Taxes To Come.

PROTECT YOUR RETIREMENT SAVINGS FROM THE IMPACT OF RISING TAXES.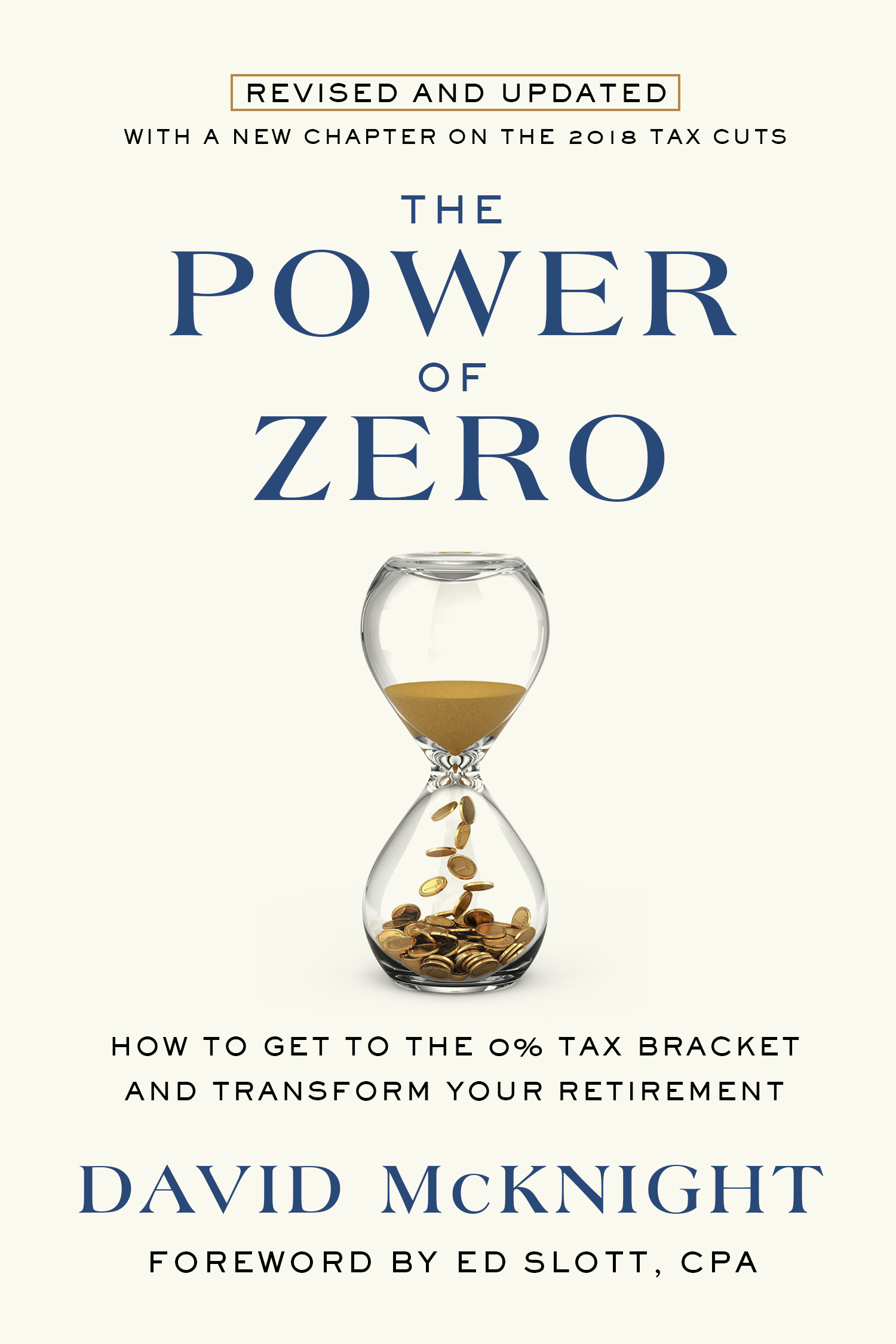 05 YEARS 03 MONTHS 03 DAYS
HOW CAN THE 0% TAX BRACKET TRANSFORM YOUR RETIREMENT?
Join us as we host best-selling author and tax planning guru, David McKnight, for a live webinar discussion on important tax concepts including:
Why experts say that tax rates could double in the next 10 years (and why COVID-19 may accelerate it).

Why IRAs and 401(k)s may present a "Catch 22" for investors.

How withdrawals from IRAs and 401(k)s could cause you to lose up to one-third of your Social Security.

Tax-free investment strategies that help protect you from rising tax rates and ensure you'll receive your Social Security tax-free.
Please fill out the form below to register for this informative webinar.

Privacy Policy: All information provided is secure and confidential. Please provide valid email and phone number for webinar confirmation purposes.
You do not want to miss this event if you have retirement investments such as 401(k)s, CDs, IRAs, stocks, bonds, annuities, insurance policies, or real estate.
Tuesday, October 27
9:00 PM (EST)
Every webinar attendee will have the opportunity to receive a complimentary copy of "The Power of Zero"; a leading book on creating retirement income that works for you - not the IRS. Attendees will also receive a complimentary personalized retirement and tax strategy review.

While supplies last.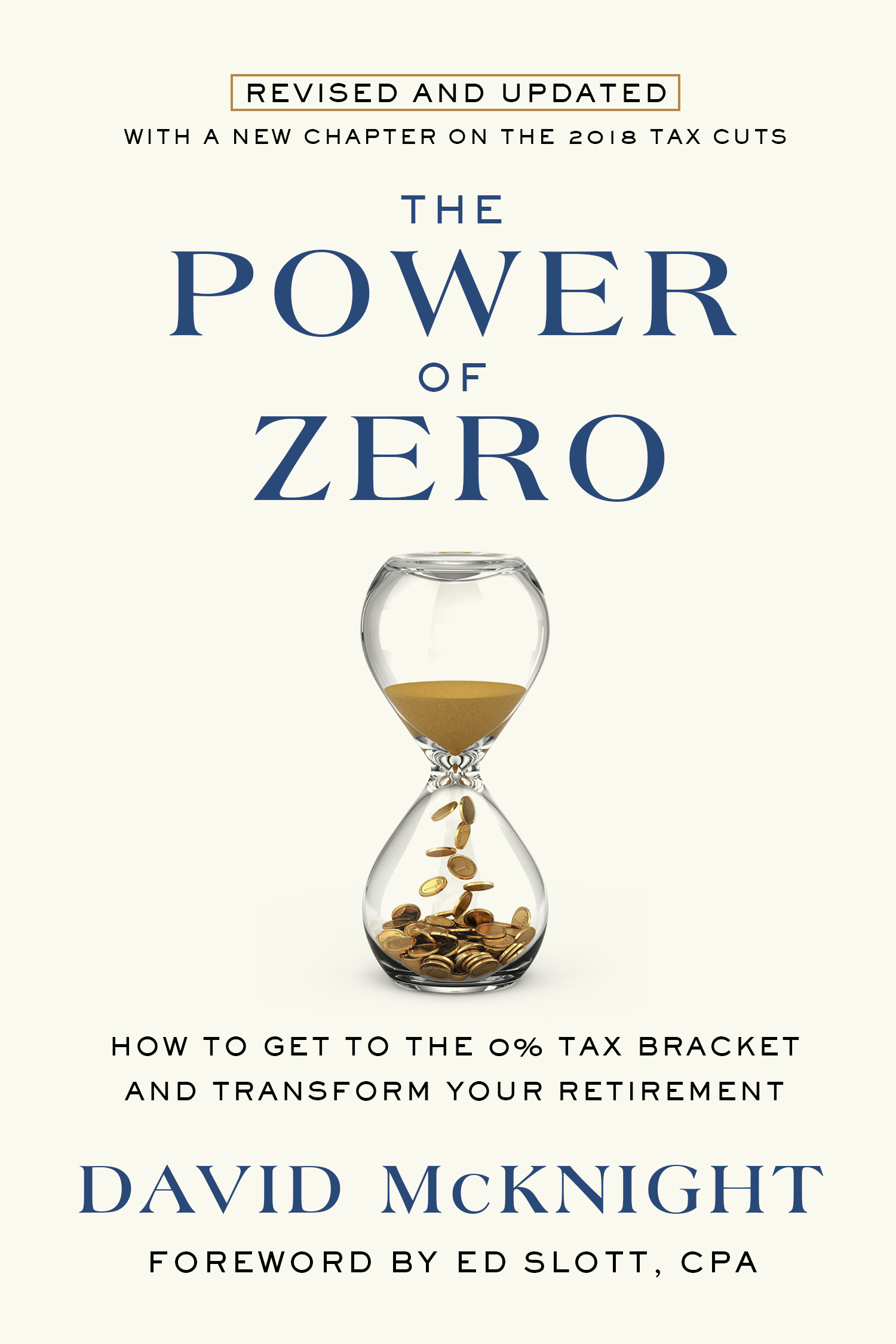 DON'T MISS OUT!
REGISTRATION CLOSES IN:
days
hours
minutes
seconds
days
hours
minutes
seconds
Are YOU ready for the TAX TRAIN?
ABOUT OUR GUEST SPEAKER – DAVID McKNIGHT
David McKnight graduated from Brigham Young University with Honors in 1997. Over the past 20 years David has helped put thousands of Americans on the road to the zero percent tax bracket. He has made frequent appearances in Forbes, USA Today, New York Times, Fox Business, CBS Radio, Bloomberg Radio, Huffington Post, Reuters, CNBC, Yahoo Finance, Nasdaq.com, Investor's Business Daily, Kiplinger's, MarketWatch and numerous other national publications. His bestselling book The Power of Zero has sold over 250,000 copies and the updated and revised version was published by Penguin Random House. When it was launched in September of 2018, it finished the week as the #2 most-sold business book in the world. In 2019 The Power of Zero was ranked as the #9 best financial resource in the country by Forbes Magazine. This book was recently made into a full-length documentary film entitled The Power of Zero: The Tax Train Is Coming. As the President of David McKnight & Company, he mentors hundreds of financial advisors from across the country who specialize in the Power of Zero retirement approach.
HOSTED BY WEALTH MANAGEMENT IN A BOX
Kelly J. Carter is the co-founder/CEO of Beacon Retirement Planning Group, Inc. and founder of Wealth Management In A Box. Kelly has 28 years of experience as a financial life planner. BRPG is proud to be at the forefront of the pioneering trend of integrating life planning with financial planning. This dynamic team-based approach allows them to develop a comprehensive financial life plan that aligns each client's values and priorities. There is no "one size fits all" strategy for retirement planning and it is important to select an advisory firm who understands what is important to you.

Prior to founding BRPG, Kelly was responsible for the formation of a financial planning and estate planning team focused on targeted income planning, tax saving strategies and tax efficient wealth transfer for clients across the country and has headed up forums for hundreds of wealth preservation seminars and thousands of retirees throughout the U.S.
*https://www.investopedia.com/taxes/trumps-tax-reform-plan-explained/
Advisory services offered through ChangePath, LLC., a Registered Investment Adviser. ChangePath, LLC. and Beacon Retirement Planning Group, Inc. are unaffiliated entities.

Kelly J. Carter: CA Ins Lic # 0E89958
kcarter@brpg-inc.com
855-346-2663
By providing your information, you give consent to be contacted about the possible sale of an insurance, annuity or securities product. Licensed Insurance Professional. Attend and learn how annuities and life insurance can be used in various stages of planning for retirement income. The information contained herein is based on the speaker's understanding of current tax law. The tax and legislative information may be subject to change and different interpretations. Neither the companies of ChangePath, LLC, Beacon Retirement Group, Inc. nor their representatives provide tax or legal advice. For answers to specific questions and before making any decisions, please consult a qualified attorney or tax advisor. The statements and opinions expressed in this presentation are those of the author/speaker and are subject to change at any time. All information is believed to be from reliable sources; however, presenting financial professional makes no representation as to its completeness or accuracy. This material has been prepared for informational purposes only. It is not intended to provide, and should not be relied upon for, accounting, legal, tax or investment advice.